In Vietnam, the concept of "Industrial Revolution 4.0" is gradually becoming familiar and the technology solutions born from this revolution are gradually changing the face of many businesses, especially companies. small and medium-sized enterprises (SMEs).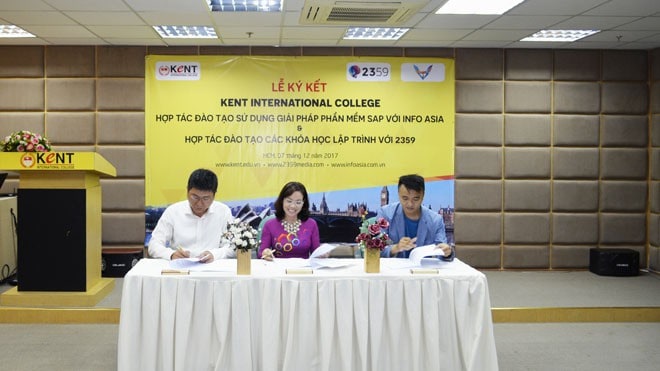 However, the labor force possessing new technologies is very lacking in the domestic market. Recognizing this shortage, in the morning of December 7, 2017, Kent Intenational College (Kent Vietnam) signed a cooperation agreement on training and providing high quality human resources with Viet Software System Co., Ltd. Tin (Info Asia) and Code Society Co., Ltd. (2359 Media Vietnam).
Mr. Ansel – Vice President of Cadmen – Taiwan, Chief Representative of Info Asia said that ERP SAP ERP/MES is the leading solution currently used by more than 55,000 businesses around the world to synchronize and manage business activities. joint. Implementing the program in Kent Vietnam, the company hopes to equip its students and personnel currently working in the fields of Information Technology, Business Administration, Accounting … knowledge. Advanced technology to adapt to the modern and prevalent technologies that leading businesses are applying.
In addition, the need to learn and study specific programs to meet the new requirements of digital technology has become the trend of a part of young people pursuing creative design and technology. . According to Mr. Nguyen Mai Anh Tuan – Director of 2359 Media Vietnam, the partner that provides digital technology training programs (ReactJS, NodeJS, .NET, UX / UI,) emphasized, we expect to see creating a "engineering ecosystem" that originates from Kent Vietnam. We consider the implementation of this unique course at Kent Vietnam as one of the projects that serve the community, based on the principle of 40-60, 60% of the time students are practicing based on real projects. of the Startup community and job security programs for graduates.
In particular, the program's teaching staff are not only leading experts but also prospective employers who will work with them. It is from here, forming an ecosystem based on the close relationship, mutual understanding between employers and the recruited people as well as the opportunity to share among members of the technology engineering community in general.
The signing event today has a very important strategic meaning for the future of sustainable development of office workers, intellectuals and technical and technological personnel. The upcoming courses will not only be equipped with the knowledge necessary for current work, but also be suitable for the new development wave coming from Industry 4.0. "As educators, we always look forward to and place high expectations on projects like these to provide long-term benefits and other intangible values ​​that complement the learners' future. We hope to expand this useful training program to many other units to improve the international standard of expertise for students and office staff in general. " Ms. Nguyen Thi Hong Loan – Principal of Kent Vietnam School was pleased to share.
The first course expected to start in the first quarter of 2018 will be the first step in realizing the dream of building and developing the HR community in the 4.0 era, while creating many resonant values for recruitment market segment managerial position, team leader …
About Info Asia
Info Asia is a 100% foreign invested company, established in 2004. The company has more than 10 years of experience in consulting and implementing SAP ERP/MES solutions in Vietnam market. ERP SAP ERP/MES is an enterprise resource management (ERP) software that includes customer relationship management, human resource management, product line, supply chain, and purchasing processes. sales, inventory management, accounting, partner information, reporting & analysis to streamline the entire business operations of a business in one system. In addition, SAP also provides integrated, customized software for partners.
Introducing 2359 Media Vietnam
2359 Media Vietnam is a branch of 2359 Media based in Singapore, specializing in mobile development. After 2 years of establishment and development, 2359 Media Vietnam has built a certain position in the domestic mobile market. This is a community of experts, trained to provide manpower in the fields of mobile programming, designs geared to the mobile user experience. Accompanying the activities of the 2359 Media project is financial support from Google Developer Vietnam community and experts to train high quality engineers.
Source: https://www.tienphong.vn