COMPANY INFORMATION
VSIC: 2220 Manufacture of plastics products
NACE 22.22 Manufacture of plastic packing goods
NACE 22.23 Manufacture of builders' ware of plastic
COMPANY DESCRIPTIONS
About Us
SENG SENG PLASTIC CO., LTD. established in 1986 and is a manufacturer, supplier, developer and producer of high quality LDPE bags, CPP bags and laminated bags. It gradually becomes well known and the sales increased. SENG SENG went over to Mainland China Guangdong in 1995 to set up factory TA TING PLASTIC CO., LTD. With ISO9001 registered, occupying a land size of 50,000 square meters, including the office, production plants and facilities like staffs hostel and restaurants; there are over 1,000 of staffs and 250 sets of production equipment, estimate monthly productivity is around 1,500 tons.
With advanced equipment and computerized printing machines, we can extrude a wide range of bag sizes and print 10 colors per side. Besides, Seng seng owns its research & design department for new product development & customize products. For its capability to meet customized products which clients desired. As the technology modernized through the years, in 2012 we started to produce laminated bags. We investigated the most updated equipment and technique to meet customer's needs. It is a large-scale PE, CPP and laminated zipper bags, fruit bags manufacturer.
Our Mission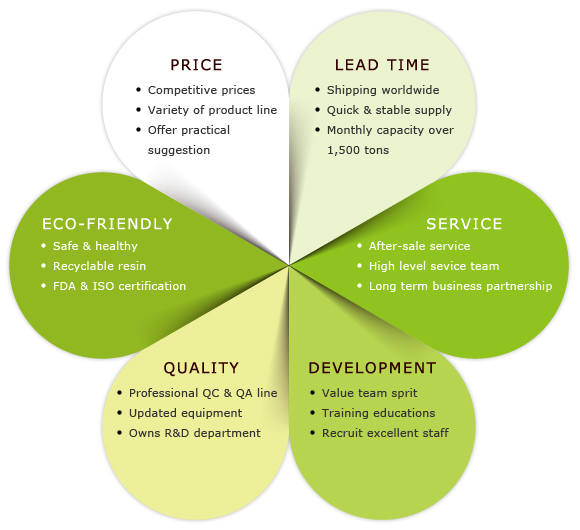 Since the initial period till now, we aim to produce products with high standard of quality, style, technology, and innovation. This is achieved by using only the best FDA certified raw materials, experienced engineers, and production facilities available.

We had been persistence towards the using of only best machinery and equipment; also we had dispatched massive specialized technicians from Taiwan to our Mainland China workshops to ensure that our customers will be receiving the best quality products and services. With over decade's professional experience, we guarantee to provide you these products to overseas markets with high quality, competitive price and professional service which lead a good reputation among customers all over the world.
VietnamCredit would like to introduce to you about the TA TING PLASTIC (HAI DUONG ) CO., LTD. The subject is specialized in doing business on Manufacture of plastics products. TA TING PLASTIC (HAI DUONG ) CO., LTD is established on 08/15/2018, with head office located at Lot 9.5, Road No. 6, Cam Dien – Luong Dien Industrial Zone, Luong Dien Commune, Cam Giang District, Hai Duong Province, Vietnam. The subject is a Limited liability company (FDI), with registered capital of 4,000,000USD. The key leader is: CHEN CHIH WEI. The corporate structure, management skills and financial ratios are important to evaluate subject's business commitment…
TA TING PLASTIC (HAI DUONG ) CO., LTD is a part of the Manufacture of plastics products industry. TA TING PLASTIC (HAI DUONG ) CO., LTD has 4,067 related companies. The information on assets, liabilities and shareholders equity are fluctuating years on years….