Turnover for ERP implementation:
The estimates are based on surveys from 2012 to the present and based on a number of criteria such as market share, deployment cost, deployment time, system functions and the benefits achieved. . The following article will help businesses easily know if they are suitable for ERP implementation and the 10 best ERP solutions in the world.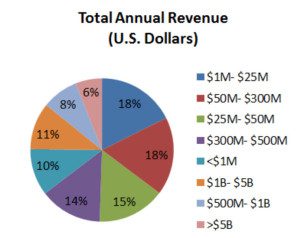 Based on annual sales, businesses will know if they really need ERP solutions or not
According to a survey report of Panorama Consulting Solution, in 2015, 51% of ERP implementation enterprises had annual revenue from $ 1 million to $ 300 million, of which the figure was 2014 at 66%.
For an annual turnover of between $ 300 million and $ 500 million, only about 5% of businesses, compared with 2014, were 14%.
The increase in the percentage of large-scale enterprises participating in the survey shows that the average cost of implementing ERP projects also increased from $ 2.8 million in 2014 to $ 4.5 million in 2015.
The statistics also show that about 35% of businesses have ERP implementation costs accounting for 3% to 5% of annual revenue, while only 28% of businesses have implementation costs ranging from 1 % to 3% of their annual revenue. In addition, there are no businesses for ERP implementation costs that exceed 30% of their annual revenue.
If the ratio of deployment costs / revenue is calculated, this ratio is 4.6% in 2014 and increased to 5.9% in 2015.
The above figures are just a general survey, depending on the needs that businesses can choose appropriate ERP implementation (with prices from low to high).