SAP ERP software:
ERP can be understood as an enterprise management software, ERP (Enterprise Resource Planning – enterprise resource planning system). In ERP software, developers will integrate a lot of accounting modules (financial accounting, bank accounting, account accounting, warehouse accounting, …). In addition, ERP also has modules for production management, sales management, purchasing management, customer relationship management, sales opportunity management, etc.So ERP is like the backbone of business. Karma. Unlike individual management software, ERP integrates all management software into a highly stable and synchronized system.
SAP ERP software is the generic term for the ERP system of SAP (Walldorf, Germany). SAP ERP combines the main business functions of an organization. Suitable for manufacturing, trading, service, etc. SAP stands for System Application Programing, the name of a unit established in 1972 by five members of IBM. To date, SAP has grown to become the leading ERP software company with more than 30,000 companies, more than 232,000 customers, spanning 188 different countries across the globe. SAP's position is now valued on par with software giants such as Oracle, IBM, Microsoft …
SAP ERP/MES, also known as SAP B1, is a standardized management system to suit Vietnamese businesses (Vietnamese accounting law standards).
Implementation process of SAP ERP software (SAP ERP/MES):
Steps to follow:
Project preparation:

Preparation and project launch meeting.
Software installation and general training.

Project process document:

Conduct the meetings.
Perform Business Blueprint (including Master Data preparation, Print Form, Report).
Complete Business BluePrint.

Project implementation (deploy modules according to the needs of enterprises):

Financial accounting module.

Subsystem purchase.
Inventory management.
Sell.
Project management module.
Subsystem of production.
Check the system and evaluate the quality.

User training:

Train project teams and end users.
User accepted to use.

Complete preparation:

Enter catalog data, opening balance.
Complete migration of data to the new system.
Complete preparation.
Handover plan and project review.

Operation & Support:

Operation and Local support (2 weeks).
Signing the project completion report.
Support for paying the first month (1-2 days).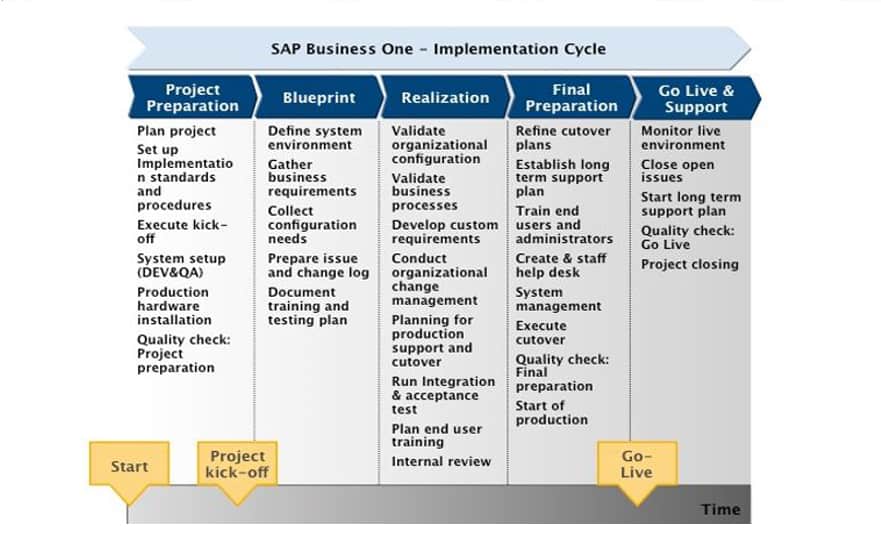 SAP ERP software deployment unit (SAP ERP/MES):
Viet Tin Software Company – Infoasia is a subsidiary of CADMEN Taiwan (golden partner of SAP). With over 10 years of experience in ERP implementation, Infoasia is confident to be a quality and prestigious SAP ERP software deployment partner.

Advantages of SAP ERP/MES:
SAP ERP/MES supports VAS report, in accordance with Vietnamese accounting standards and accounting laws.
SAP ERP/MES has fast processing speed in real time, friendly interface, suitable for everyone even if you are not specialized in information technology. Time to learn and use very fast.
SAP ERP/MES easily develops and changes the system as needed, facilitating the enhancement of business performance.
SAP ERP/MES helps users make quicker and more accurate decisions. Data synchronization for operation from end to end, so there are less errors and avoid having to enter data multiple times.
SAP ERP/MES is flexible. Connect branches, facilities of the business as well as its partners together into a system.
Subsystem and utilities in SAP ERP/MES
Production:  

BOM | Costing | MRP Recommendations | Production Order.

Inventory:

Item MD | Serial Number & Batches | Location MGT | Pick and Pack.

Sales:

Quotation | Order | Gross Profit Calculation | Pricing Control | Analysis Report.

Procurement:

Purchase Order | MRP Forecasting | Purchase Analysis Report | Landed Cost.

Finance:

Cost Account | Budget | Cash Flow | General Ledger | Chart Of Accounts.

CRM:

Analysis | Outlook Integration | Activities Management | Sales History | Sales Opportunities.

HR Payroll:

Payroll (Throught Partner Add-on) | Employees Data.

Smart tool: A

nalysis Report | Generating Queries By User Demands | Drag & Relate.

Multi-support:

Financial Reports | Multi-Currency | Multi-Language.

Localication:

V.A.T Reports | Business Environment | V.A.S.

Configuration: Message Alerts | Processes | Integration | Utilities | DB Updating | Query Wizard.
Customization: User Defined Field | User Defined Table | SDK | Form Setting | Formatted Search | User Menu.
Database: MS SQL Server | SAP Hana.