With the enterprise management application on SAP ERP/MES phones, you can now manage your business easier than ever before!
– SAP ERP/MES empower your team, help them complete all the work that arises with the help of the integrated tool in SAP ERP/MES application. This application can run on the operating system of iOS or Android devices. SAP ERP/MES application allows businesses to effectively manage important processes.
– At the same time, the application also increases the productivity of businesses thanks to the ability to take care of customers and effective partners.
– Sales activities are organized and managed regularly, thanks to the alerts that appear on the screen whenever there are important events or changes in the proposed price. The main information can be displayed through image reports, it can be said that SAP ERP/MES application is the best application in combining real-time data and image reports. So you can view or create orders, review business opportunities, and handle service activities related to telesales. Product information and product inventory levels are displayed fully, clearly and continuously updated.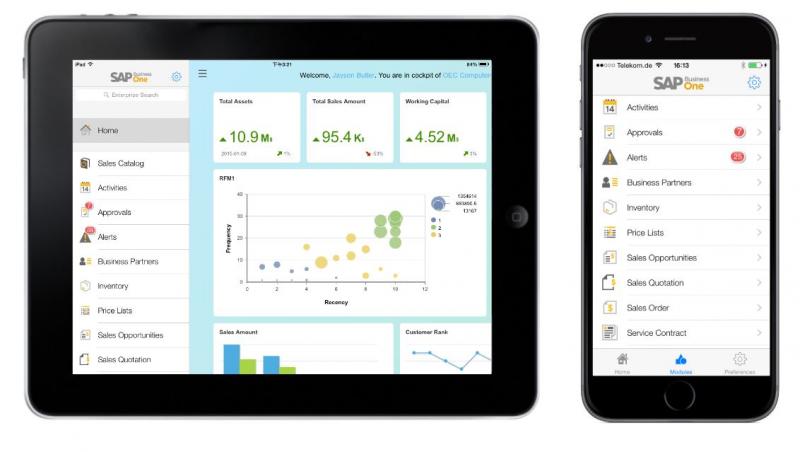 The application also allows you to easily access data stored on SAP ERP/MES. ERP systems can become very large and complex during deployment. The SAP business one application can be called ERP solution service because it can be used on ipad or android device to access important information of the business from anywhere.
Strengths of SAP ERP/MES mobile application:
-> Manage contact with customers and partners, as well as sales activity schedules
-> Receive notifications about price changes and important events
-> Report with information chart according to real time data
-> Create or view sales opportunities and orders, and resolve service calls
-> Manage inventory and get product details.

Advantages of SAP ERP/MES:
SAP ERP/MES supports VAS report, in accordance with Vietnamese accounting standards and accounting laws.
SAP ERP/MES has fast processing speed in real time, friendly interface, suitable for everyone even if you are not specialized in information technology. Time to learn and use very fast.
SAP ERP/MES easily develops and changes the system as needed, facilitating the enhancement of business performance.
SAP ERP/MES helps users make quicker and more accurate decisions. Data synchronization for operation from end to end, so there are less errors and avoid having to enter data multiple times.
SAP ERP/MES is flexible. Connect branches, facilities of the business as well as its partners together into a system.
Subsystem and utilities in SAP ERP/MES
Production:  

BOM | Costing | MRP Recommendations | Production Order.

Inventory:

Item MD | Serial Number & Batches | Location MGT | Pick and Pack.

Sales:

Quotation | Order | Gross Profit Calculation | Pricing Control | Analysis Report.

Procurement:

Purchase Order | MRP Forecasting | Purchase Analysis Report | Landed Cost.

Finance:

Cost Account | Budget | Cash Flow | General Ledger | Chart Of Accounts.

CRM:

Analysis | Outlook Integration | Activities Management | Sales History | Sales Opportunities.

HR Payroll:

Payroll (Throught Partner Add-on) | Employees Data.

Smart tool: A

nalysis Report | Generating Queries By User Demands | Drag & Relate.

Multi-support:

Financial Reports | Multi-Currency | Multi-Language.

Localication:

V.A.T Reports | Business Environment | V.A.S.

Configuration: Message Alerts | Processes | Integration | Utilities | DB Updating | Query Wizard.
Customization: User Defined Field | User Defined Table | SDK | Form Setting | Formatted Search | User Menu.
Database: MS SQL Server | SAP Hana.